Welsh Club of the Year 2013
Langland Bay Golf Club have Won the prestigious Welsh Golf Club of The Year award. Out of the 176 golf clubs in Wales, Langland Bay came out top too collect the award this Friday in the presentation ceremony at the Ryder Cup venue Celtic Manor.
PGA Director of Golf Andrew Minty said, "To win this award is a huge achievement for the club. To be the first club in South Wales to win it and to receive this recognition is amazing. We have made huge strides this year to increase our membership and to start new initiatives with the help of Golf Development Wales. We have had excellent feedback about our course and the consistently high standards we maintain here. We have made the members and visitors experience at the club one to remember and have set our standards extremely high. Sky Sports and the BBC have visited the club numerous times this year to film programmes on the course which is fantastic for tourism to the area and awareness of Golf."
Langland Bay Golf Club have set the bar high for themselves, and are looking forward to next year to continuing to improve the course and facilities even further and keeping Langland Bay on the map as a prime golfing destination.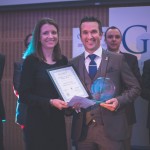 The PGA Director of Golf at Langland Bay Golf Club, Andrew Minty, has been named the UK Golf Club Managers' Association's (GCMA) UK Golf Club Manager of the Year, the most prestigious award in golf club management.
Minty, 34, is both the youngest ever winner of the award and the first manager of a Welsh golf club to be crowned best golf club manager of the year in the UK. His prize includes a trip to Thailand.
Andrew took over the role at Langland Bay in 2010 and transformed the club's marketing to the extent that in recent months Sky Sports, the BBC and Visit Wales have all showcased the venue. This has been credited as the main reason why the club's membership has almost doubled and green fee income nearly trebled from £34,000 per year to £81,000. There have also been projects at the club to introduce beginners to golf, which have led to 120 trying the game and 85 of them joining the club, and there has been a well-received restructuring of the golf course in the last four years.
Andrew himself was the youngest person in the UK to gain the PGA's director of golf qualification, which he achieved aged 28, and Langland Bay was named the Golf Union of Wales' 'Golf Club of the Year' in 2013.
The GCMA received over 150 nominations for the Golf Club Manager of the Year, and Andrew was selected as one of four finalists, along with Phil Bonsall from Piltdown Golf Club, Tracy Rawlinson from Warrington Golf Club and Allison Malham from Seaton Carew Golf Club.
The competition is sponsored by HowDidiDo and Fairstone.
HowDidiDo Media's managing director Barry Dyett said: "Andrew's achievements speak for themselves. He is a worthy winner and a credit to the industry."
Fairstone Group's Verony Chalmers added: "We are delighted that Andrew has received the recognition for his outstanding achievements at Langland Bay. A truly exceptional manager."